Description
A standard toolbox can´t contain all the tools you need during a carwrap job. As always, you just don't have not enough compartments for your special knifes and squeegees, bottles will topple over and so on. But not anymore! Now you can have the SOTT ToolBox.
Bigger = Better
Up to 200% more space!
LARGER FORMAT: VOLUME 30 liter.
With a slightly bigger footprint of 52cm x 30cm the SOTT TOOLBOX has a capacity of 30 liters. So you will have everything you need right by your side.
2 BOTTLE HOLDERS
The SOTT TOOLBOX comes with two additional bottle holders that can be attached to the TOOLBOX with Velcro. Now you can take up to 4 (Spray-)Bottles along without them toppling over.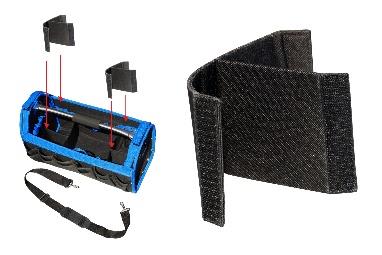 RULER HOLDERS
As many as 4 sturdy straps with Velcro hold your longer tools, such as cutting rulers.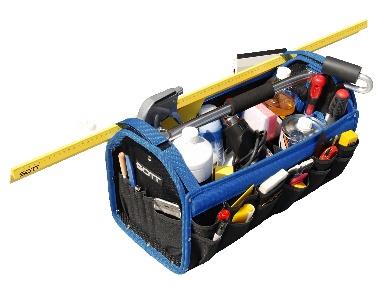 22 ATTACH STRAPS
Along the inside of the TOOLBOX are 22 tool straps for you to store your tools. They are
designed for quick access, just as everything about this tool box is!
STAINLESS BRACE WITH HANDLE
Comfortable to carry thanks to the strong stainless brace with handle.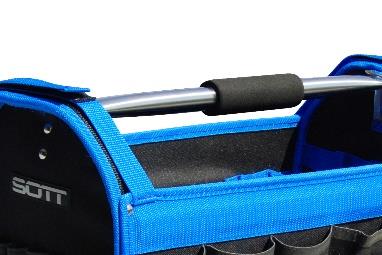 QUICK ACCESS POCKETS ON THE FRONT
Knives and pens are easily accessible for use on the front of the box and there is space for your mobile phone as well.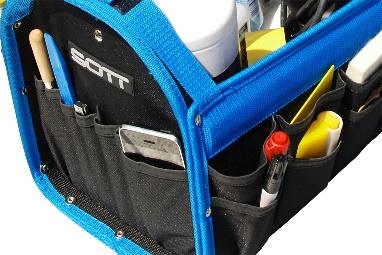 TAPE MEASURE HOLDER
On the back there is a strong metal clip for your tape measure. Everything is designed for quick access.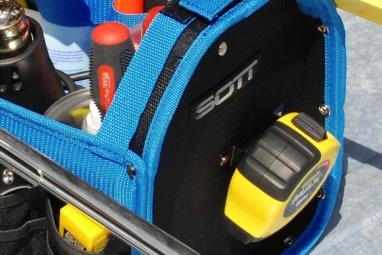 6 PLASTIC FEET
The box stands on 6 large plastic feet that avoid damage and soiling of the TOOLBOX when it sits on the floor and keeps it dry.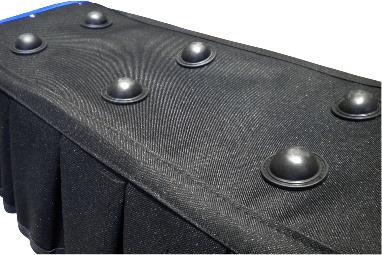 18 COMPARTMENTS FOR SQUEEGEES etc.
As many as 18 compartments on both sides for your squeegees, blade holders and many other tools and materials.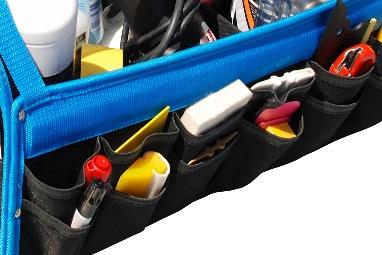 SHOULDER STRAP
Standard supplied with shoulder strap that can be attached to the special braces on the box.